It's the first post I've ever made and it had to be an ultimate list of places to visit in Portugal. If this doesn't scream 'obsessed' then I don't know what does. It's not bias (well, maybe a bit, my other half is Portuguese), because I have visited this country 3 times and keep visiting and never get tired of it. There's just something about Portugal that feels like home to me. Be it the zesty odor of fruit trees mixed with radiating warmth from the gravel. Or the friendly smiles of everyone around you. Or the slow, relaxed pace of life that reminds you of a childhood spent around nature and farm animals.
Whatever it is, Portugal is a place for everyone. It's been increasingly getting more popular over the past few years. Unlike its cousin Spain – Portugal is very affordable and sort of unique. It's got a wonderful language, which evolved from 'vulgar Latin' , vibrant cuisine and many hidden gems scattered all around the country. Not to mention the beaches easily top the list even in the global scale. Ah… There's just so much to this country that needs to be shared to the world and I doubt I'll fit it in this one blog post (regardless of its size). A lot of the information online is very tourist-y and I'll do my very best to provide a less commercial take on it.
I'll be structuring the guide into 5 main sections of Portugal. So from top to bottom we have:
THE NORTH
CENTER
LISBON AND TAGUS VALLEY
ALENTEJO
ALGARVE
SUPER USEFUL MAP
Let's delve into Portugal! Vamos!
1. Santuário de Santa Luzia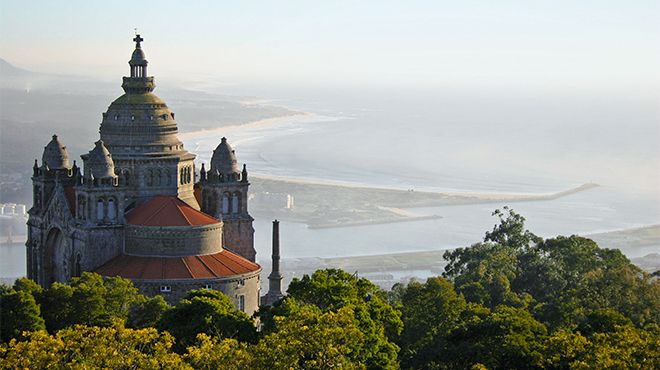 Visit this wondrous modern (less than 80 years old) church inspired by Byzantine architecture. Rated 4.5 on Tripadvisor and one of the top things to do in Viana do Castelo. It will guarantee you a perfect selfie and solid, spectacular panoramic shots as you'll be able to climb all the way to the domed roof and marvel at the beauty of your surroundings!
2. Ponte De Lima
Ponte de Lima is one of the oldest Portuguese towns and it's a beautiful mix of countryside, nature/landscape views and gardens. It's often referred to as 'the floral town' and by that you can guess it's awash with magnificent flowers. A trip to Ponte de Lima will last you between 2 to 5 hours and it's brilliant for a day trip. It's perfect for a daily walk if you're into historical sights or mesmerising natural views. This town does not fall short on the active side either though! There's a cycling route, kayaking, golfing, biking/hiking possibilities… or even bird watching! I think quaint little cities like this one are a must see so I'm including it in the list.
3. Castro Laboreiro
Visit this medieval, old-style GoT sort of vibe village called Castro Laboreiro! Go off the beaten track and learn about the habits/customs/traditions of the people living there. The village consists of a few visiting points, such as: Museum Centre, Village Church, Castro Laboreiro Castle, Pillory, bunch of nice little churches and granaries/mills (yep, just like your grandparents used to have). Make sure to go by the Castro Laboreiro Interpretation Trail for a chance to see multiple wild animal species. Visit the Castro Laboreiro Kennels to see the breed of the same name, make sure to try some restaurants to taste some refreshing pesticide free food and have a go at some ancient arts, such as linen and embroidery.
4. Granaries of Soajo
In Portuguese these statues are called 'Espigueiros do Soajo' , which translates to 'Spikes of Soajo'. Which brings me to my next point – these statues are not statues at all, they're granaries. These were built nearly 340 years ago, all the way back in the 18th century to protect crops from weather and all sorts of little burrowing creatures (rodents, in other words). They're being used up to this day and are scattered around different parts of Northern Portugal. I find it amusing that they really look like crop coffins and I'm honestly unsure what inspired such design. It might've been related to the Portuguese praying for a decent crop yield – hence the crosses, but I'm just speculating! Let me know if you know the answer.
5. Castelo do Lindoso
Located just by the border of Spain and Portugal lies the castle of Lindoso. Unkempt but preserved in its authenticity this place brings you back to the 13th century Portugal ran by Afonso the Third. The purpose of the castle was to defend the country's borders from the Spanish. There are 2 museums within the castle for an entry fee of 15 euros, however, just strolling around the outer parts of the castle can be fascinating enough. Breathtaking, picturesque scenery and a bunch of Espigueiros nearby.
6. Peneda-Gerês National Park
This spectacular park dates back to 1971 and it totally has it all! Ancient, unchanged villages, furry friends such as: deer, horses, wolves, badgers, otters or bears and enchanting nature. It's really just a blast to the past in the most spectacular way, delivering you a full immersive 13th century experience. There's even waterfalls and a thermal village! Within this park exists the Castro Laboreiro, which already made to this list, Soajo and Lindoso. These are all approximately in the same territory. I can guarantee pictures here will look like they're straight from a postcard (that your grandmother received when she was 16 years old)!
7. Miradouro (Viewpoint) da Pedra Bela
The Pedra Bela Viewpoint, located at 829 meters height, is another must see in the Peneda-Gerês National Park. The breathtaking scenery overlooking the Cávado river and some small Gerês Village houses is just a shame to miss out on! In my opinion, the best place to visit would be in the evening just as the sun sets as I'm a sucker for all the romantic hues of a wine coloured sky. However, travellers have suggested looking over the afternoon when the majority of the visitors are already gone. For a moment such as this you'll likely want to keep it all to yourself! There's not much space in the viewpoint and to fully contemplate the sight it's best to be on your own with nature!
8. Cascata do Arado
The Pedra Bela Viewpoint, located at 829 meters height, is another must see in the Peneda-Gerês National Park. The breathtaking scenery overlooking the Cávado river and some small Gerês Village houses is just a shame to miss out on! In my opinion, the best place to visit would be in the evening just as the sun sets as I'm a sucker for all the romantic hues of a wine coloured sky. However, travellers have suggested looking over the afternoon when the majority of the visitors are already gone. For a moment such as this you'll likely want to keep it all to yourself! There's not much space in the viewpoint and to fully contemplate the sight it's best to be on your own with nature!
9. Cascata Tahiti
A tropical waterfall in Gerês. It's left completely untouched, surrounded by nature and nothing else – as Portuguese things tend to be. The water is extremely clean and refreshing – must have during overwhelmingly hot summer days. There's not many signs on how to get down or get by this waterfall so many visitors warned to be weary of the slippery rocks. Personally, I love this raw feeling of nature when there's literally no landmark to help you around (dead crazy, I know). That's what helps me feel like a real adventurer at the core instead of just a tourist. A must visit around Gerês area.
10. Bragança
If you find yourself in the North-East of Portugal don't miss out on the spectacular city of Bragança. Titled a historical capital this city is a modern feat embedded with contemporary art museums and suburban skyscrapers, but also a stuck-in-time relic sporting 15th century medieval castles, farms, countryside and beautiful nature. Be sure to visit the castle of Bragança and Domus Municipalis – a granite building serving a yet unknown and puzzling purpose. Don't forget the museums and igrejas (churches). Make sure to head on to the all-encompassing Montesinho Natural Park for a stroll or a picnic. Near the park you will find a village bearing the same name, which will look like something from your old history textbook – rustic houses, wooden balconies and all that jazz. You can also find a list of animal species living in Montesinho natural park, revealing their wide variety and geology. Make sure to read this post if you decide to go.
11. Miranda do Douro Municipality
Strategically placed ancient Portuguese town, which has been a Roman and Arabian settlement throughout its existence. The small town bears its own language, folklore and is home of Posta Mirandesa – its very own dish. The most frequented excursion in the area is the Crucero Ambiental Arribes, which is essentially a boat tour unveiling breathtaking Douro scenery. An equally important point of interest is the Douro cathedral, which is reported by many tourists as a beautiful area, surrounded by ruins, birds and… you couldn't guess this – a young baby Jesus with a hat! Certainly worth a visit.
12. Braga
Braga – home to one of Portugal's largest football clubs and also the oldest city crossing over 2000 years of existence. As you can probably imagine Braga is filled with ancient baroque structures, buildings and churches. A very religious city indeed, Braga hones festivals called Semana Santa (Holy Week) and is constantly vibrating from the chiming of the bells, rekindling its devotion to the spiritual world. As it seems to be a necessity in Portugal – Braga is prone to contrasting sights. Churches, bells, ancient vibes – all that, but a fiery and modern core, filled with young people and students studying in one of the biggest universities of the country.
When you're here it's most compulsory to visit Bom Jesus do Monte – religious sanctuary, often visited pilgrimage site, which involves a decent climb, but awards you with spectacular views of the city. Praça da República seems like a good place to start your trip, being a wide area square with cafes and beautiful gardens. Garden of Santa Barbara, Chapel of São Frutuoso – a few more must-visits whilst in the area. The garden features exquisite, strict and elegant vibes, makes you feel like you're part of a medieval play whilst the chapel has a certain attractive eeriness. Surely, Braga deserves a whole post, so read more here.
13. Guimarães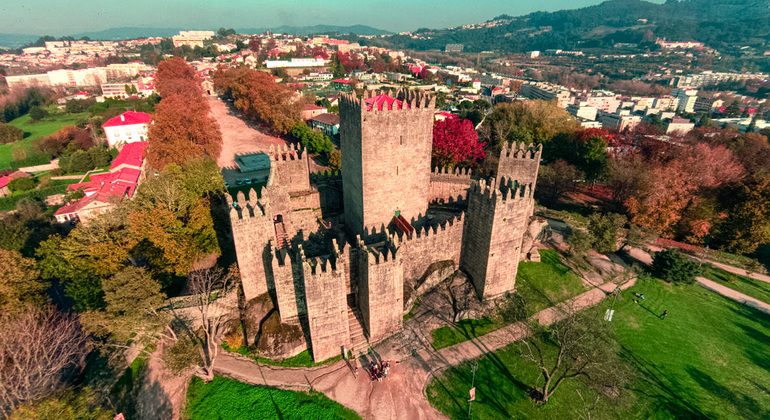 Proudly coined the 'birthplace of Portugal' due to being the birthplace of Portugal's first king – Guimarães is packed with culture and just simply drenched in heritage. So much so that UNESCO acknowledged its significance in 2001 and declared its old center a World Heritage Site. In 2012 the city was granted the title of European Capital of Culture. I think after hearing all this it's relatively safe to say that Guimarães is one intriguing cookie. Your number 1 thing to do would be to visit Palace of the Dukes of Braganza – gorgeous palace built in the 1420s and home to Catherine Braganza, wife of England's Charles 1st. Have a walk in the well preserved old town, which holds dear to its authenticity. Visit the nearby churches, which are always a pleasant sight in Portugal and don't miss the Plataforma das Artes e da Criatividade – a surprising sight in this medieval town as it looks so urbanistic, its facade lights up at night creating wondrous sights. See full list of attractions here.
14. Fisgas de Ermelo
Situated in the beautiful Alvão Natural Park lies one of Europe's largest waterfalls – Fisgas de Ermelo. Created by the flowing river Olo – this waterfall is a staggering 300m long and creates spectacular views. If you're a fan of natural beauty and love off-the-beaten-track attractions – this is it. Many have reported troubles navigating the park, no significant markers, cascading rocky paths, but this (I found) is what Portuguese are good at – preserving the unkempt beauty of nature. Treat this visit as a trek or an adventure and you will be rewarded with the most raw and touching sights.
14. Amarante
Ah, Amarante – the town that birthed some of the most important Portuguese artists and writers of the 20th century. You can imagine it's an eerie, dreamy place, filled with fantastic landscapes – a romantic dream awash with the young and sparkly vinho verde – a Portuguese necessity. Name Amarante comes from the Portuguese verb Amar (eng. to love), which explains why it's the hometown of São Gonçalo – the  St Valentine of Portugal. Many people come here in hopes of finding true love, however, Amarante is a truly wholesome place for everyone: couples, lonely souls and families alike. As much as festivals (notably Festas de Sao Goncalo, featuring pastries shaped like men's private parts), Amarante also features many splendid sights such as Serra do Marão or Parque Florestal de Amarante, it also has an aqua-park for the little adventurers. Give this welcoming city a go, it will not disappoint!
15. Casa de Mateus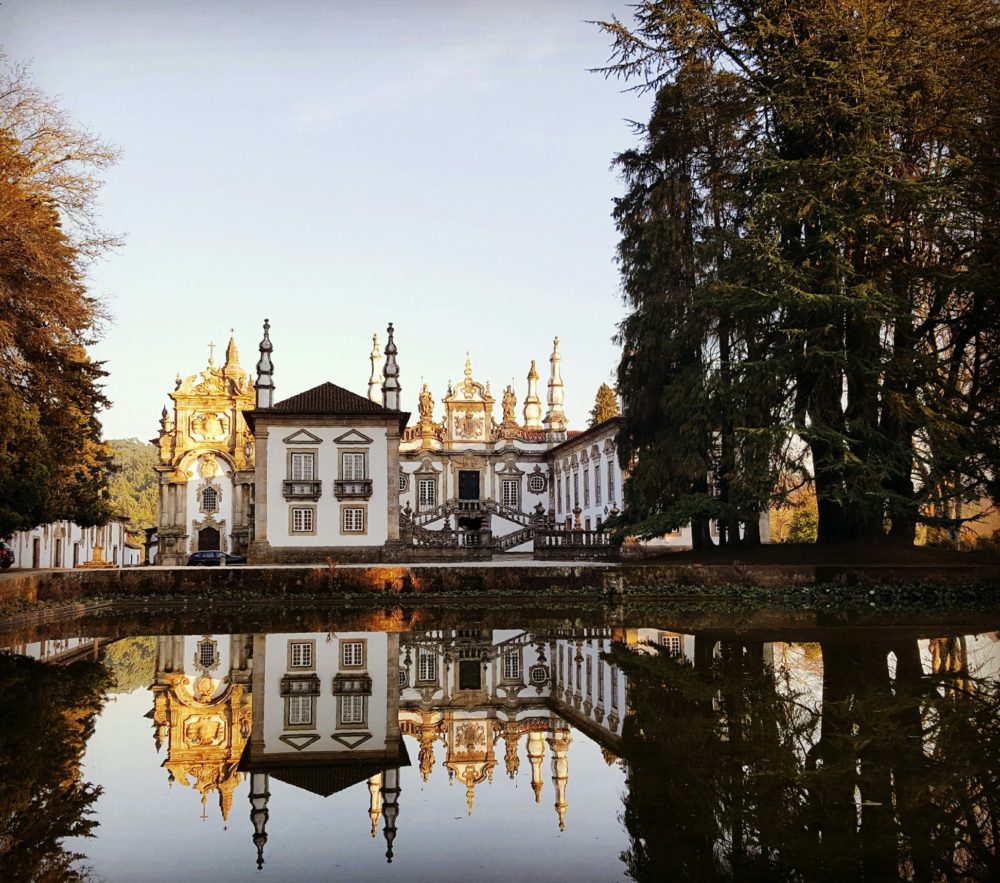 Built in the first half of the 18th century – this palace is thought to be one of the best examples of baroque architecture in Portugal. You can visit it by booking a tour beforehand and notably asking for English translation. Some of the finest points of the palace: impressively carved wooden ceilings, fantastic Portuguese style old furniture with a curious library, and spectacular well-kept outdoor gardens. If you're a wine connoisseur – this is just the place for you. The palace is famously depicted on bottles of Mateus rose, and there's a wine tasting tour for as little as 5 euros on the site. If you're religious (or just slightly attracted by curious oddities) you will enjoy an exhibition of holy relics: fingernail, set of eyeballs (of a saint?), a piece of the true cross – all of them have the Vatican proof of authenticity.
16. St. Leonardo de Galafura
This viewpoint of the Douro Valley (UNESCO world heritage) is said to have inspired one of Portugal's greatest 20th century writers Miguel Torga. One of his poems is embroidered in one of the nearby churches – Sao Leonardo. Aside from the facts, the view is a must-see if you're in the area! Many travelers report this to be one of the greatest views in Portugal just oozing peacefulness and serenity. Up high this viewpoint overlooks the Douro river, lush greenery, and multiple vineyards that create this grainy almost hypnotizing view. There's not much more to say about this except that you have to see this by yourselves. The view is so spectacular many find themselves at a loss of words trying to explain what they feel once they gaze upon this site. To fully enjoy the scenery you're advised to pick some snacks as there are picnic tables around, including a tiny hidden restaurant at the bottom of the hill offering amazing local house wine.